Maryland Birth Injuries
maryland Birth Injury Attorney
As parents, you spend months planning the arrival of your child, anxious and hopeful for all of the wonders you hope your child will experience. Sadly, however, childbirth does not always go as smoothly as it should. When a child is injured before, during, or after childbirth, devastating injuries may occur.
Birth injuries can be incredibly devastating and traumatic for all involved, and they are generally the unfortunate result of medical malpractice. Our team of Maryland birth injury attorneys is ready to fight for you! We are backed by decades of experience and provide personalized, tenacious representation.
Get in touch with a birth injury lawyer serving Maryland, (410) 698-1717 for a free case evaluation.
Let Brown & Barron Help protect your rights. You Deserve jUSTICE
We Have Recovered Millions for Our Clients
If a child suffers at the hands of a medical professional's negligence, the results can be catastrophic and permanent. Due to the vulnerable nature of a newborn baby or unborn fetus, birth injuries are tragically quite common when treatment and care is placed in the wrong hands.
If you are in need of an aggressive and determined Marylandbirth injury lawyer to fight for all you, your child and your family have suffered, and will continue to suffer, look no further than Brown & Barron, LLC. We will treat your case with the urgency and thoroughness it deserves, and we will also bring you into our family to ensure your experience throughout the legal process is as easy and comfortable as possible.
Why Hire Brown & Barron, LLC?
130+ Years of Combined Experience
Free, No-Obligation Consultations
Millions Recovered for Our Clients
Personalized & Tenacious Representation by a local, award-winning law firm specializing in complex medical cases like this
What Are Birth Injuries?
The term "birth injury" refers to any damage or injury your child sustains before, during, or immediately after delivery. Often, birth injuries are minor and are simply a physical side effect of being born. Sometimes, however, birth injuries are more serious. In a legal sense, birth injuries refer to any profound injury or death to the infant or mother that can be attributed to medical mistakes, malpractice, negligence, or flawed hospital policy during the birthing process.
Brain Injuries
There are a number of brain injuries that can occur, and the baby may suffer long-term damages as a result. Most of the time, brain injuries are caused by oxygen deprivation. Typically, these situations are labeled as anoxia, hypoxia, birth asphyxia, and perinatal asphyxia.
The most common brain-related birth injuries are cerebral palsy and hypoxic ischemic encephalopathy (HIE). Most brain injuries during pregnancy are caused by failure to monitor, failure to identify prolapsed umbilical cord, or failure to use tools correctly when assisting with birth.
Cerebral palsy affects nearly 800,000 children and can be a result of maternal infections, infant infection, infant stroke, and a lack of oxygen. In some situations, though, proper monitoring by the medical experts can allow for preventative measures when it comes to cerebral palsy.
Muscle and Physical Injuries
Typically occurring during the delivery process, there are multiple different muscle-related injuries that can be sustained, and the baby may be left to suffer. These are the common physical and muscle-related injuries that can occur:
Brachial plexus injury: The upper extremity of the arm is injured
Erb's palsy: The nerves of the upper arm are affected, causing loss of feeling or weakness.
Klumpke's palsy: The lower nerves in the arm are damaged.
Shoulder dystocia: An injury to the baby's head and shoulder when trapped behind the pelvic bone during delivery.
Delivery Injuries
Some of the injuries that can be caused by misuse of forceps or vacuum extractor include broken bones, lacerations, and skull fractures. These are often dependent on how the physician handles the delivery, and whether or not they monitor the situation properly for the best standard of care.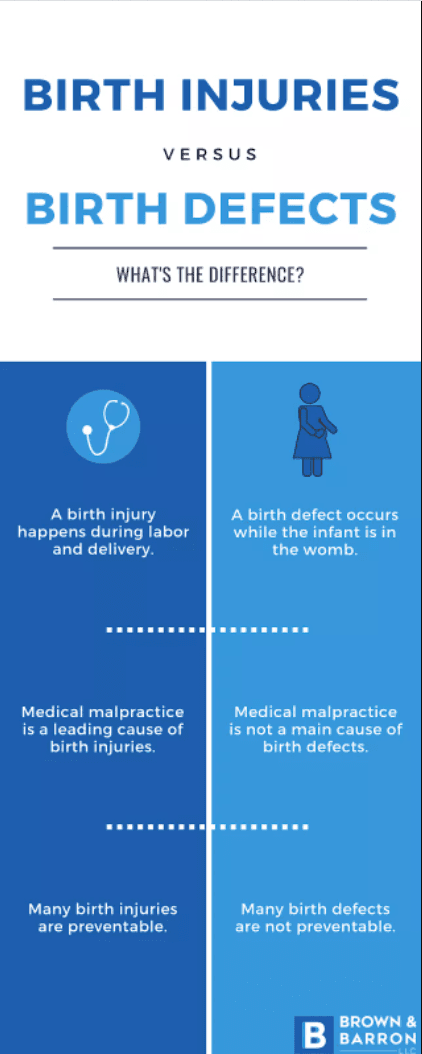 Birth Injuries vs. Birth Defects
There are several differences between birth injuries and birth defects that expectant parents should understand.
While the terms "birth injury" and "birth defect" are sometimes used interchangeably, there is an important difference between the two. A birth defect is a condition that forms during a mother's pregnancy, before the baby is born, and is in no way caused by the baby's or the mother's medical care. Instead, the condition often arises due to genetics. However, a birth injury occurs when there is physical harm done to the baby during the labor or delivery process.
How Do I Know If a Birth Injury Was Caused by Negligence?
Malpractice or negligence in a medical setting means the doctor or other medical professional acted in a way that breached their duty of care (i.e. the doctor failed to follow or deviated from standard procedures meant to keep patients safe). This means the doctor either failed in their duty to monitor a baby or take swift action to prevent a baby from suffering harm. Typically, negligence comes into play with birth injuries caused by lack of oxygen or other physical harm.
Some of the most common causes of birth injuries include:
The improper use of assistive birthing devices
Failure to order a cesarean delivery (C-section)
Inadequate or inappropriate response to birth complications
Failure to monitor the infant for signs of fetal distress
Medication errors made before, during, or after birth
More often than not, these injuries are preventable and occur due to the negligent actions of healthcare professionals. While some birth injuries are mild enough to allow for a full recovery, others can be life-altering and permanent.
Contact Brown & Barron online today to schedule a free case review with a with a birth injury lawyer serving Maryland.

Can I Sue the Hospital for My Child's Birth Injury?
Hospitals have an obligation to make reasonable inquiries into the education, training, and licensing of a prospective employee when hiring staff members, which often consist of licensed physicians, nurses, physician assistants, and nurse practitioners. Failing to do so means they could be held liable under the "corporate negligence" doctrine.
For example, if a hospital did not investigate the credentials of a physician prior to allowing him or her to treat patients, the corporate negligence doctrine could apply, and you could hold the hospital liable for your newborn's injuries.
In many cases, physicians are considered independent contractors instead of hospital employees, which means the hospital would not be held liable for the doctor's negligence. Instead, you would have to file a lawsuit against the doctor rather than the facility itself. That said, if hospital negligence was also a contributing factor, the hospital may also be liable.
The Long-Term Effects of a Birth Injury
Given the sensitive nature of the birthing process, it's absolutely vital that medical practitioners respond to events in the delivery room appropriately. Failure to do so can leave infants and mothers with devastating birth injuries.
Intensive Rehabilitative Treatment
Some birth injuries, including cerebral palsy (CP), may require physical therapy to help improve a child's strength, flexibility, balance, and more. A child living with CP may need these therapies for the remainder of their life, as there is no cure for this condition. This may amount to hundreds of thousands of dollars in medical bills for the family, and emotional distress for the child.
The Need for Assistive Devices
Birth injuries that affect a child's coordination and movement, including shoulder dystocia, Erb's palsy, cerebral palsy, and more, may hinder a child's development and motor skills. This may require the child to use assistive devices for movement.
Mounting Costs
The effects of some birth injuries are so severe that those affected may never be able to live on their own or earn an income, and will continue to need proper care throughout their lives. This can lead to high expenses in medical bills and lost wages for the victim and their families.
How Long Do I Have to File a Birth Injury Lawsuit?
A deadline applies to every suit filed in Maryland, and birth injury lawsuits are no exception. However, determining when this deadline expires can be more challenging than usual in birth injury cases. After all, malpractice during labor or delivery could have two victims: the mother and the child. To complicate matters further, the deadline to file a lawsuit based on these injuries differs between the two.
Claims for the Mother
The statutory period for a mother injured while giving birth is the same for any medical malpractice claim. Md. Cts. & Jud. Proc. § 5-109 establishes a three-year deadline that typically begins the date the injury occurred. If the birth injury or illness does not appear immediately, you could have additional time to file a lawsuit. Thus, it is essential to speak to a birth injury lawyer about your case before assuming how much time you have left to file.
Claims for the Child
When newborns sustain an injury at birth, they have much greater latitude to pursue a case for monetary compensation than their mother.
Maryland law previously set limits that required a minor to bring any malpractice lawsuit they suffered shortly after it occurred. The courts struck down this statute, ensuring that a minor never had an obligation to pursue an injury claim.
Instead, the law now freezes the statute of limitations until the injured party reaches age 18. On their 18th birthday, the clock starts on the statute of limitations. This means that a person that suffered an injury at birth typically has until their 21st birthday to file suit.
oVER 150 5-STAR REVIEWS FROM OUR PAST CLIENTS
Hear From Our Clients
"They definitely get the job done in will go above in beyond for the clients I appreciate all the hard work that they have done over the years."

Ashley L.

"Brown and Barron are very sufficient, and EFFECTIVE! They are direct, and they will not put false hope into anything!"

Sabrina F.

"This law office is amazing ! Ester was our lawyer and helped us through every step of the way."

Madison S.
Understanding Birth Injury Compensation
The compensation that could be available following a birth injury might vary between mother and child, but the same damages are generally available. The extent of the injuries and their impact on the lives of both parties will determine what damages they could recover.
Compensation in medical malpractice cases typically breaks down into two broad categories: economic and noneconomic losses. The court awards economic damages to help you return to the financial position you had prior to the birth injury. This category involves covering losses like hefty medical bills or lost income.
Noneconomic damages cover the subjective losses mother and child have sustained. Instead of replacing out-of-pocket expenses, these damages exist to compensate you for these hardships. Common examples of noneconomic damages include emotional distress, pain and suffering, or mental anguish. Our firm will work with you to establish the value of your noneconomic damages.
Contact Our maryland Birth Injury Lawyers Today
Brown & Barron, LLC is comprised of trusted, experienced, and skilled Maryland birth injury attorneys. We know nothing is quite as heartbreaking as realizing your baby was harmed before, during, or after birth, which is why we are passionate in our pursuit of justice on your behalf. Our legal team has a proven track record of success, so you can rest assured you are in more than capable hands when you have us on your side.
If you believe you could receive compensation due to a birth injury, you must understand how much time you have to pursue your case. After all, the deadline is far shorter for a mother seeking justice than her injured infant. Therefore, let a Maryland birth injury attorney advise you on your options. Call as soon as possible for your free consultation.
Continue Reading
Read Less