Client Resource Center
Client Resource Center
Welcome to the Brown & Barron Client Resource Center
Map of our office location & convenient parking options.
(click on map image to enlarge the map)
Welcome to Brown & Barron. What to Expect…
Brown & Barron founders Brian Brown & Leah Barron outline the next steps once you have signed your retainer. Click here to watch the video (YouTube).
Is there anything I can do to help with my case?
Click here for a checklist of items that you can provide to Brown & Barron that might help your case. (PDF)
How long will it take to resolve my case?
Brown & Barron founders Brian Brown & Leah Barron outline the basic parts of the lawsuit process and the estimated duration of each part. Of course, all cases are different, but it provides a general expectation based on prior experience. Click here to watch the video (YouTube).
General Legal Questions
(click on images below to enlarge the image) Helpful Resources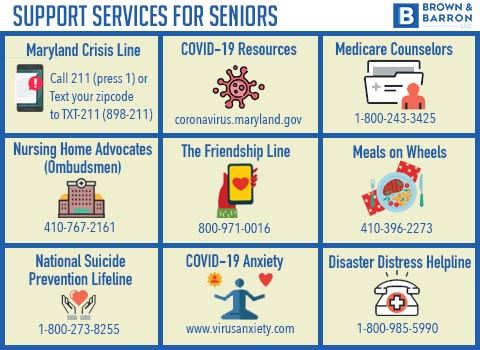 Frequently Asked Questions (FAQs)
Nursing Home Abuse & Neglect FAQ: Click here.
Birth Injury FAQ: Click here.
Medical Malpractice FAQ: Click here.
More information…
oVER 150 5-STAR REVIEWS FROM OUR PAST CLIENTS
Hear From Our Clients
"Brown & Barron, LLC has to be one of the best law firms in the state of Maryland, possibly the entire country. The quality of their service is second to none. They go above and beyond to serve their clients and get the job done."

Eric B.

"The best professional experience I have ever been a part of. I trusted them the entire way, and they exceeded all expectations."

Darius L.

"Brown & Barron provided efficient, straight-up, and straightforward services in my medical malpractice case. They answered all my questions and kept me informed every step of the way."

D.D.

"After a two-year process, my case is resolved. I would like to commend and highly recommend Mr. Chris Casciano for his diligence, attention to detail, and support for myself and my family."

A.L.

"They definitely get the job done in will go above in beyond for the clients I appreciate all the hard work that they have done over the years."

Ashley L.
Work with the lawyers you need & Deserve
Contact Brown & Barron
Whether you have questions or you're ready to get started, our legal team is ready to help. Complete our form below or call us at (410) 698-1717.