Bed Sores

Baltimore Bedsore Injury Attorney
Bedsores are a common issue that can arise from nursing home neglect. Patients who are paralyzed, in a coma, or who otherwise require long periods of bed rest must be continually repositioned and cleaned by their caregivers to prevent the development of sores. People who use a wheelchair are at risk for pressure sore development as well.
When nursing home staff fail to follow the proper measures to prevent the development of bedsores in patients, the injuries can evolve into infections or exposed tissue wounds in which surgery may be required for treatment. In extreme cases, bedsores can even be fatal. If you or a loved one sustained bedsores because of nursing home neglect, a Baltimore bedsore injury attorney could help you hold the nursing home accountable.
Get in touch with a bedsore injury lawyer serving Baltimore, (410) 698-1717 for a free case evaluation.
Recoverable Damages in a Bedsore Claim
You could be entitled to receive compensation if you were a victim of nursing home neglect and developed bedsores. Bedsores can be a significant injury, and you or your loved one deserves to be compensated. Damages you could recover in a bedsore injury claim include:
Medical bills: Getting rid of bedsores may require long and extensive treatments. The treatments will require ongoing medical care, which can be costly. You could recover compensation for the doctor's visits, medications, medical supplies, and other out-of-pocket costs for medical treatment.
Pain and suffering: Bedsores can be very painful, with the pain lasting for a long time. You could be compensated for the pain, anguish, and discomfort that was caused by the bedsores.
Emotional distress: Being in physical pain for a long time could cause emotional distress. You may be fearful that you will develop another bedsore and be anxious at those thoughts. If you are suffering from emotional distress because of your bedsore, you could include these damages in your claim.
Our firm's Baltimore bedsore injury attorney can help you fight for these damages. We will calculate the value of your losses to determine how much compensation to seek in your claim.
What Are Bedsores?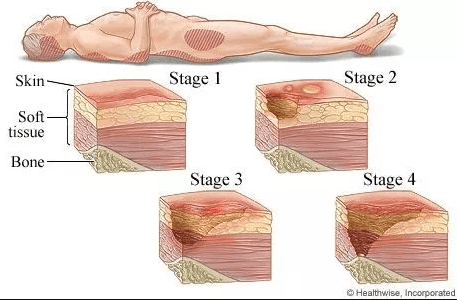 Bedsores – also known as "pressure ulcers" – are caused by long-term pressure on the body, which can create sore spots and tears in the skin. These wounds most commonly develop on the hips, back, and other areas that are subjected to pressure when sitting or lying down for a long time. The elderly may also face higher risks of bedsores than other groups, due to fragile skin and limited mobility.
There are multiple stages of bedsore development, starting at stage one with red and tender skin that can be painful. As the skin continues to rupture, the wounds will begin to appear more like ulcers or blisters, and may even expose tissue, muscle, and bone as they worsen. Any person with limited mobility has an elevated risk of bedsores. Other risk factors include:
Age: Older people typically have thinner skin, which can increase the likelihood of developing bedsores.
Mental issues: If the resident suffers from Alzheimer's or dementia, they may not be able to report if they are feeling pain in an area of their body.
Lack of body fat: More pressure may be put on areas that have a lack of body fat, which could cause bedsores.
Malnutrition and dehydration: Deficiencies in nutrients can increase your chances of sustaining bedsores. Poor nutrition also makes bedsores that have already developed difficult to treat. A lack of protein, zinc, or vitamin C can increase bedsore risks.
Other risk factors: Other risk factors include low blood flow, diabetes, smoking, low immunity, and muscle spasms.
There is a reason that experts always refer to bedsores as "never events" or "sentinel events among the medical community and independent hospital accreditation groups." Because these injuries are entirely preventable with appropriate care, hospitals and long-term care facilities have a clear responsibility to ensure that they never happen.
Despite this fact, the National Quality Forum (NQF) estimates that in 2006, pressure ulcers affected over 300,000 nursing home residents and cost Medicare over $13 billion – and those numbers have only continued to increase over the years. When understaffing and negligence lead vulnerable nursing home residents to develop bedsores, the victims and their families could have grounds to pursue a civil lawsuit.
Understanding the Stages of Bedsore Development
As mentioned previously, there are several stages of bedsore development, ranging from Stage 1 to Stage 4. In some cases, a Stage 4 pressure ulcer may become so deep that it is considered "unstageable" and must be cleaned before doctors can even assess its severity.
A brief overview of the bedsore stages:
Stage 1: At the mildest stage, bedsores only affect the uppermost layer of the skin. The skin can be red, itchy, inflamed, or hot, and it may feel different from other areas on the body (either firmer or softer.)
Stage 2: When bedsores remain unnoticed and untreated, they dig deeper below the surface of the skin, creating an open wound or blister. The area will be swollen and red and possibly oozing clear fluid or pus, and even with immediate treatment, it could take up to 3 weeks to heal.
Stage 3: At this point, the bedsore has delved into the fat layer beneath the skin tissues, bringing signs of infection such as bad odors and drainage. It will often look like a crater and have red or black edges where the tissue has died. A Stage 3 bedsore typically requires antibiotics and up to 4 months of healing.
Stage 4: Stage 4 bedsores affect the muscles and ligaments underneath the body's fat layer and can take over a year to heal after treatment. These wounds will be very deep and show black edges, and you may be able to see muscle or bone. Seek emergency medical attention right away for these injuries.
There is no good excuse for a patient to have bedsores, which is especially true for Stage 3 and 4 wounds, which can require extensive surgery and aggressive antibiotics.
When you or your loved one has developed a serious bedsore, it's important to take photographs and videos of the sore as it changes over time. This will help for two reasons: First, it will document the severity of the bedsore injury, and second, it will establish a clear timeframe for your nursing home negligence claim.
Standing Up for Victims of Nursing Home Neglect Throughout Maryland
If you or a loved one developed bedsores, it's time to take action against the nursing home for their neglect. Holding the nursing home accountable will help protect future residents of the facility from sustaining bedsores. Contact Brown & Barron today for a free consultation.
Contact Brown & Barron online today to schedule a free case review with a with a bedsore injury lawyer serving Baltimore.
What Can Nursing Homes Do to Prevent Bedsores?
A person could prevent a nursing home resident from sustaining a bedsore in many ways. If the nursing home staff takes proper care of their residents, bedsores would not form. Several ways to prevent bedsores in a nursing home facility include:
Repositioning the patient who is bedridden or in a wheelchair the appropriate number of times per day
Using different cushioning techniques when a patient is sitting in a wheelchair or a chair for a long time (like using a donut cushion)
If a bedsore has already formed, there are ways to prevent it from getting worse or infected. This includes:
Applying creams on the bedsore and make sure the area stays clean.
If the wound becomes severe, there are surgical procedures that can close off the wound to prevent infection from progressing.
Nursing home facilities should be familiar with bedsore prevention techniques. If they are not following the correct procedures, this could be considered negligence.
Holding Negligent Nursing Home Staff Accountable
Although many conditions related to aging can contribute to bedsores, it is still the responsibility of designated caregivers to do whatever they can to prevent sore development and properly treat any existing wounds.
Combined, our legal team has served as lead counsel for more than 100 jury trials, focusing our practice on cases of severe nursing home abuse and neglect. In the process, we've recovered millions for injury victims, including over $90 million in positive outcomes between 2017 and 2021 alone.
If an elderly person in your life is living in a nursing home and has developed bedsores because of negligent care, our Baltimore bedsore attorneys at Brown & Barron can help them seek justice.
oVER 150 5-STAR REVIEWS FROM OUR PAST CLIENTS
Hear From Our Clients
"Brown & Barron, LLC has to be one of the best law firms in the state of Maryland, possibly the entire country. The quality of their service is second to none. They go above and beyond to serve their clients and get the job done."

Eric B.

"The best professional experience I have ever been a part of. I trusted them the entire way, and they exceeded all expectations."

Darius L.

"Brown & Barron provided efficient, straight-up, and straightforward services in my medical malpractice case. They answered all my questions and kept me informed every step of the way."

D.D.

"After a two-year process, my case is resolved. I would like to commend and highly recommend Mr. Chris Casciano for his diligence, attention to detail, and support for myself and my family."

A.L.

"They definitely get the job done in will go above in beyond for the clients I appreciate all the hard work that they have done over the years."

Ashley L.
Work with the lawyers you need & Deserve
Contact Brown & Barron
Whether you have questions or you're ready to get started, our legal team is ready to help. Complete our form below or call us at (410) 698-1717.